About Dr. Weiss
Dr. Stephen P. Weiss practices Holistic/Integrative Medicine at his private practice in Albuquerque, New Mexico and is a recognized expert in this field. A former owner and Medical Director of the Treehouse Center of Integrative Medicine, Stephen artfully combines alternative approaches such as Classical Homeopathy, Herbology, Nutrition, Detoxification and Spiritual Guidance with conventional Family Practice, in  which he is Board Certified.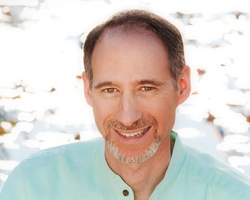 A Phi Beta Kappa graduate of Swarthmore College, Dr. Weiss received his M.D. from the
University of Maryland School of Medicine and completed a three year residency in Family Practice at West Jersey Hospital, Voorhees, N.J., a University of Pennsylvania affiliate. He co-authored scientific papers in reputable scientific journals before pursuing extensive post-graduate training in Complementary Medicine. He then graduated from the Ayurvedic Institute in 1992, the New Mexico Herb Institute in 1994, the Academy for Classsical Homeopathy, Van Nuys, CA in 1995, with Honors, and Jeremy Sherr's Dynamis School of Advanced Homeopathic Studies in 2004.
Dr. Weiss has appeared on radio with Gary Null, in newspapers and magazines such as The Washington Post and Vegetarian Times and on TV including the Channel 13 Ten o'clock news and a live interview on MSNBC with John Gibson (Crosstalk). Voted a Top Doc in 2006 by his peers in Albuquerque the Magazine, he has also served as a host of KUNM's SAGE Health on Call (New Mexico Public Radio), and has been a guest on the show several times.  He has also lectured at various U.S. Medical Schools on the art and science of Integrative Medicine.
Dr. Weiss has a special interest in spirituality- waking up and discovering the truth of who we are. He has extensive experience and training in several forms of meditation and yoga, and has sat with some of the great spiritual teachers of our time. It is a process of ever-deepening conscious awareness, unearthing that which lies buried deep within our psyche and soul, and requires a strong commitment to look within and see ourselves clearly. With the help of self inquiry, prayer, visualization, meditation & cultivation of silence, yoga, breathing techniques (Pranayama), journaling and one on one dialogue, you are given the tools to help you find peace, contentment and realize your life's purpose.
Dr. Weiss sees clients of all ages from infants to seniors and treats the whole person,not just their disease. When not assisting patients in the office, he can be found hiking the Sandias, dancing, writing short stories and poetry, at Satsangs (Sanskrit for Gatherings in Truth) and joyfully exploring life's countless mysteries.
Call 505-872-2611 today to schedule your appointment with Dr. Weiss. We look forward to hearing from you.
Dr. Weiss has effectively treated thousands of patients with a variety of medical conditions.
These include but are not limited to:
• ALLERGIES – seasonal, food & inhalant
• ARTHRITIS – rheumatoid, degenerative/osteoarthritis
• ATTENTION DEFICIT HYPERACTIVITY DISORDER (ADHD)
• CANCER – as an adjunct to conventional therapies
• DERMATOLOGICAL (SKIN) DISORDERS – acne, fungal & bacterial infections, eczema, hives
• GASTROINTESTINAL DISORDERS – irritable bowel, ulcers, colitis, heartburn/acid reflux
• GLANDULAR DISTURBANCES – diabetes, hypoglycemia, thyroid, disease, adrenal dysfunction
• HEART & BLOOD VESSEL DISORDERS – circulation problems of the heart, brain and legs, heart failure, migraines
• IMMUNE SYSTEM DISORDERS – chronic fatigue syndrome, lupus, candida, HIV, recurring infections
• MEN'S HEALTH – prostatitis, enlarged prostate, prostate cancer, sexual dysfunction
• MUSKULOSKELETAL DISORDERS – injury/trauma, low back pain, tendonitis, carpal tunnel, headaches, neck/shoulder pain, osteoporosis
• NEUROLOGICAL CONDITIONS – multiple sclerosis, Parkinson's, stroke, memory disturbance/dementia
• PSYCHOLOGICAL DISORDERS – depression, bipolar disorder, anxiety, phobias, trauma, post traumatic stress disorder
• WOMEN'S HEALTH – family planning, PMS, menstrual cycle disturbances, menopause, bioidentical hormone replacement therapy, routine GYN care/PAP smears
• RESPIRATORY AILMENTS – asthma, bronchitis